Regular price
Sale price
£34.00 GBP
Unit price
per
Sale
Sold out
500 years of Anne Boleyn: It-Girl. Icon. Legend.
Virtual Summit
First Released - Autumn 2022
Welcome to 500 years of Anne Boleyn: It-Girl. Icon. Legend Virtual Summit!
(Note: File download size 4.39GB)
Overview
1522 marked the first recorded appearance of Anne Boleyn at the English court when she played the character of Perseverance during the masque of the Chateau Vert at York Place.
From the beginning, Anne garnered both dangerous enemies as well as fiercely loyal friends. This enigmatic woman, who captured the heart of a king and 'set the country in a roar' has mesmerised us ever since and whether you love or loathe her, no one can deny that Anne was a force of nature. 
From being a leading light for early English Evangelicals or simply as a fashion icon who 'changed something about her dress every day', Anne Boleyn was a visionary.
From early on in her relationship with Henry, this young English courtier had a strong sense of personal destiny, and ultimately, she changed the course of English History. Her resilience and courage have endured the test of time and continue to inspire thousands across the globe today.
Now, with the help of seven experts who have researched and written about the life of Anne Boleyn, and the cast of characters who shaped her, we will be celebrating 500 Years of Anne Boleyn: It-Girl. Icon. Legend.
What you Will Receive Upon Purchase:
When you purchase this summit, you will have access to the following videos. All are filmed in 4K and in person (not via Zoom), with some beautiful historic properties including the Chateau d'Amboise, the Wolsey Rooms at Hampton Court and the Long Gallery at Hever Castle as the backdrop.
Here are your speakers:
Dr Sarah Morris: Lost in France - Walking in the Footsteps of the Young Anne Boleyn.
Join me on location, in France, at the chateaux of Amboise, Blois and Chaumont as I bring to life some of the key French locations that Anne would have known well during her early years at the French court.
Kate McCaffrey: Becoming Anne - The Early Years of Anne Boleyn. 
Kate will guide us through Anne Boleyn's early years in Mechelen and France, introducing us to the key characters of the French court and explaining how they shaped the future of Anne Boleyn.
Prof Glenn Richardson: The Cardinal, Anne and 'The King's Great Matter'.
Glenn is an expert on Wolsey, having published a recent biography in 2020. He was our lead expert in my Wolsey summit of the same year. Now, I revisit my conversation with Glenn, this time putting Wolsey's often fraught relationship with Anne under the spotlight as we seek to answer the question of the extent of Anne's role in Wolsey's downfall.
Gareth Russell: Anne Boleyn and Thomas Howard - A Relationship of Mutual Loathing. 
Famously Anne's uncle, the 3rd Duke of Norfolk, complained bitterly that his niece treated him no better than a dog! In this entertaining conversation with Gareth Russell, we unpack the basis for their legendary dislike for one another while gaining a fascinating insight into the interplay between members of the Boleyn and Howard families.
Tracy Borman: 'My Elizabeth'.
In all the dramatic and tragic events that crashed through Anne's life after 1533, the one enduring shining light was the love shared between mother and daughter, which, as Tracy explains in this fascinating talk, endured long after death separated the infant from her doting mother.
Prof Diarmaid MacCulloch: Thomas Cromwell - A Deadly Adversary. 
We are in safe hands with Prof Diarmaid MacCulloch as we venture into the dangerous world of Thomas Cromwell. As Thomas' most well-known and celebrated biographer of recent times, Diarmaid puts right the often misunderstood relationship of Thomas with the Boleyns. From the beginning, was he a friend or foe? The answer might surprise you!
Natalie Grueninger: The Final Year of Anne Boleyn.
Join Natalie and me as we unpack the fatal sequence of events that gathered pace in the last year of Anne Boleyn's life. In particular, we will examine the relationship with Henry Tudor and debate his role in Anne's ultimate fate on the scaffold.
Note: Once purchased, you'll instantly gain access to a digital video file to watch on any of your devices.
Share
View full details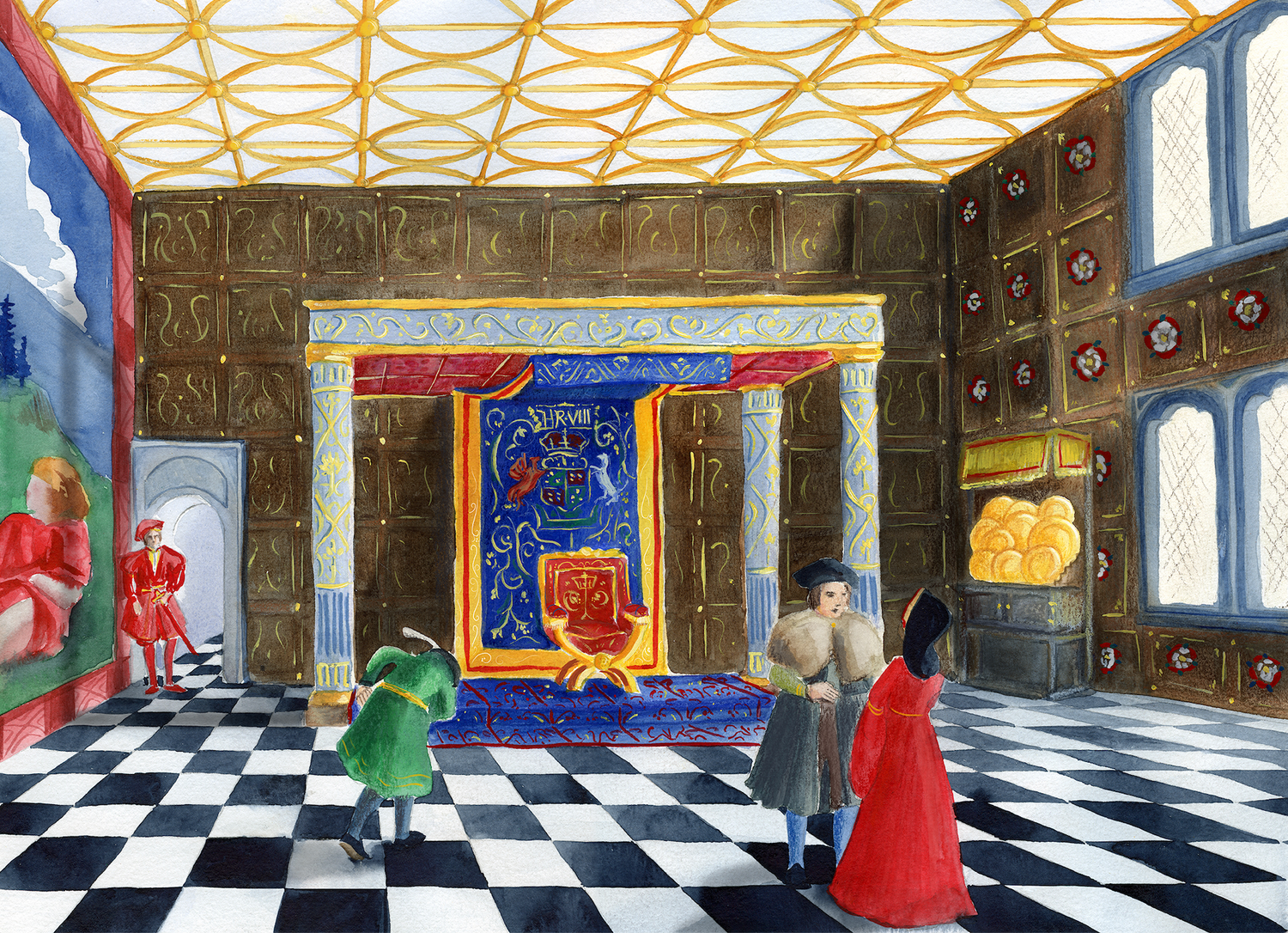 A Recreation of Henry VIII's Presence Chamber at Greenwich Palace
A collaboration between The Tudor Travle Guide and Artist Kathryn Holeman to bring to life one of the key interriors of Henry VIII's reign...the King's Presence Chamber at Greenwich Palace.