Regular price
Sale price
£34.00 GBP
Unit price
per
Sale
Sold out
'The Field Of Cloth Of Gold: 500'
Virtual Summit 
First Released - May 2020
Welcome to 'The Field of Cloth of Gold: 500' Virtual Summit!


Note: File download size circa 4GB


Overview
During a blustery 18 days in June 1520, a historic event was held in the Pale of Calais. Here, King Henry VIII of England and King Francis I of France met in an ostentatious display of power, wealth and status. Masterminded by Thomas Wolsey, the aim was to join the two kingdoms in a pact of solidarity and friendship, notably against the insurgence of the Ottoman Empire, which was threatening Christian Europe at the time.
It was a spectacular event that became famous in its lifetime. Five hundred years on, The Tudor Travel Guide celebrated this historic event by holding a two-day virtual summit.
Experts in their fields will discuss various aspects of the event: from the social, political and cultural context to original research to locate Henry's celebrated temporary palace, clothing and textiles, food and more...


What You Can Expect from the Summit
This summit, created to commemorate the 500th anniversary of The Field of Cloth of Gold, includes contributions from the following speakers, all experts in their respective fields:

Video One: Professor Glenn Richardson: The Context And Aims Of The Field Of Cloth Of Gold - The English Perspective
Video Two: Julian Munby: Location Henry VIII's Famous Temporary Palace at Guines
Video Three: Brigitte Webster: Food And Feasting At The Field Of Cloth Of Gold
Video Four: Professor Charles Giry-Deloison: The Context And Aims Of The Field Of Cloth Of Gold - The French Perspective
Video Five: Tracy Borman: All The King's Men - Influential Courtiers At The Field Of Cloth of Gold
Video Six: Professor Maria Hayward: Clothes And Textiles At The Field
Video Seven: Natalie Grueninger and Sarah Morris: Henry VIII And The Road To Calais


About Your Expert Speakers:

Professor Glenn Richardson

Glenn Richardson is a Professor of Early Modern History. He is a Fellow of the Royal Historical Society, a Fellow of the Society of Antiquaries and an Honorary Fellow of the Historical Association.
Glenn has published extensively on Tudor England's political and cultural relations with Continental Europe and European Renaissance monarchy. His book The Field of Cloth of Gold (2013) makes him the perfect lead speaker for our summit as he discusses the aims of the summit and the events as they unfolded from an English perspective.
In addition to journal articles and chapters in edited collections, his other books are: 'The Contending Kingdoms': France and England 1420-1700 (Ashgate, 2008), Renaissance Monarchy: The Reigns of Henry VIII, Francis I and Charles V (London, 2002) and Tudor England and its Neighbours  [co-edited with Susan Doran] (2005). 

Julian Munby

Julian is Head of Buildings Archaeology at Oxford Archaeology.  He is a graduate of the Institute of Archaeology, London, with over 45 years of experience in historic buildings and landscapes. He has worked at Oxford Archaeology since 1990, has undertaken studies for environmental assessment, historic landscapes and buildings, and is Head of Buildings Archaeology.
Julian has undertaken studies of medieval timber-framed buildings (and urban inns), has worked on medieval houses, castles, cathedrals, and country houses, and is interested both in the archaeology of buildings and the link between documentary history and extant remains of the past.  At the time of this summit, he was researching early carriages and coaches in medieval and early modern Europe.
Julian has an extensive range of publications on historical and archaeological topics and is a frequent public speaker. He has appeared on Time Team programmes and was instrumental in rediscovering Edward III's Round Table building at Windsor Castle and locating the site of Henry VIII's temporary palace at the Field of Cloth of Gold.

Brigitte Webster

The Tudor and 17th Century Experience is the brainchild of Brigitte Webster. Born in Austria, Brigitte trained and served as a school teacher for 25 years. Her qualification was in history and cooking, a combination that has finally come together in her career as a culinary historian currently working on several publications on international cuisine of the 16th Century. The Tudor and 17th Century Experience is a venture that allows her to share her passion for all things Tudor with a wider audience, especially now that she and her husband live in their dream home, an authentic, early Tudor manor house.

Professor Charles Giry-Deloison

Charles Giry-Deloison is a Professor of Early Modern History at the University of Artois (Arras, France). He works on late fifteenth - early seventeenth-century English history, particularly on English diplomacy and England's relations with France and the Continent.
He is the author of: 500: Le Camp du drap d'or / The Field of Cloth of Gold. La Rencontre d'Henri VIII et de Francois 1er and Le Schisme d'Henri VIII.
And the editor of: Arras et la diplomatie européenne, XVe - XVIe siècles and François Ier et Henri VIII. Deux princes de la Renaissance (1515-1547). He has written numerous articles and chapters on Anglo-French relations. He is a Fellow of the Royal Historical Society and of the Société de l'Histoire de France.

Tracy Borman

Tracy Tracy is Co-Curator for Historic Royal Palaces. She often appears on television and radio. In 2021, Tracy was made an Honorary Professor at Bishop Grosseteste University in Lincoln. She is also a Fellow of the Society of Antiquaries and a Fellow of the Royal Historical Society. 
She has written several notable books on the Tudors including, 'The Private Lives of the Tudors', 'Henry VII and the Men Who Made Him' and 'Thomas Cromwell: The Hidden Story of the King's Most Faithful Servant'. 
Her most recent book, 'Anne Boleyn and Elizabeth I: the Mother and Daughter Who Changed History' is testament to her passion for two of her favourite figures from the Tudor age.


Professor Maria Hayward

Maria is a Professor of Early Modern History at the University of Southampton. Her research interests include late medieval and early modern clothing and textiles, court culture under the Tudors and Stuarts and early modern queenship. Her books include Dress at the Court of King Henry VIII and Rich Apparel: Clothing and the Law in Henry VIII's England.
Natalie Grueninger

Natalie Grueninger is a Tudor history specialist, author, speaker and host of the popular podcast, 'Talking Tudors'.
She has co-authored two books with your host, Sarah Morris: 'In the Footsteps of Anne Boleyn' and 'In the Footsteps of the Six Wives of Henry VIII'.
Other books include 'Colouring History & 'Colouring History: Tudor Queens and Consorts', (co-created with Illustrator Kathryn Holeman), 'Discovering Tudor London' and her latest book, 'The Final Year of Anne Boleyn', which was published on 30 November 2022.


 Dr Sarah Morris: Your Summit Host

Hi! My name is Sarah. I am the Founder and CEO of The Tudor Travel Guide. This means I split my time between travelling around and visiting places, and researching and writing content for my membership site: The Ultimate Guide to Exploring Tudor England, which I hope to develop over time to become the most comprehensive resource for learning about and discovering Tudor locations in the UK.
My mission is to help you immerse yourself in the sixteenth century by weaving stories of people and events into the places where they unfolded. Hence, I am delighted to bring you this summit, which looks back, five hundred years on, at a spectacular event that became famous in its lifetime. 
Alongside committing to deliver thoroughly researched, factual content, the one other magical ingredient that I think brings us as close to time travel as humanly possible is my belief that…

It is only time, and not space, which separates us from the past.
I hope you enjoy this summit!
Note: Once purchased, you'll instantly gain access to a digital video file to download and watch on any of your devices.
Share
View full details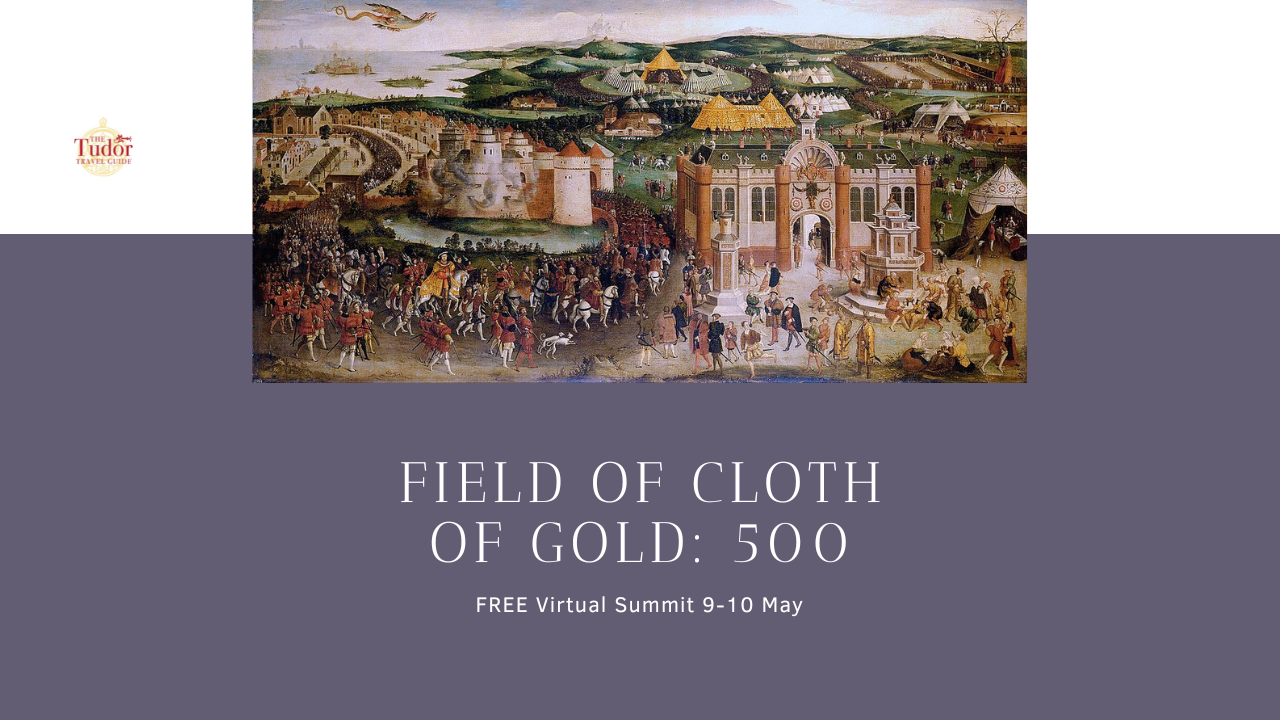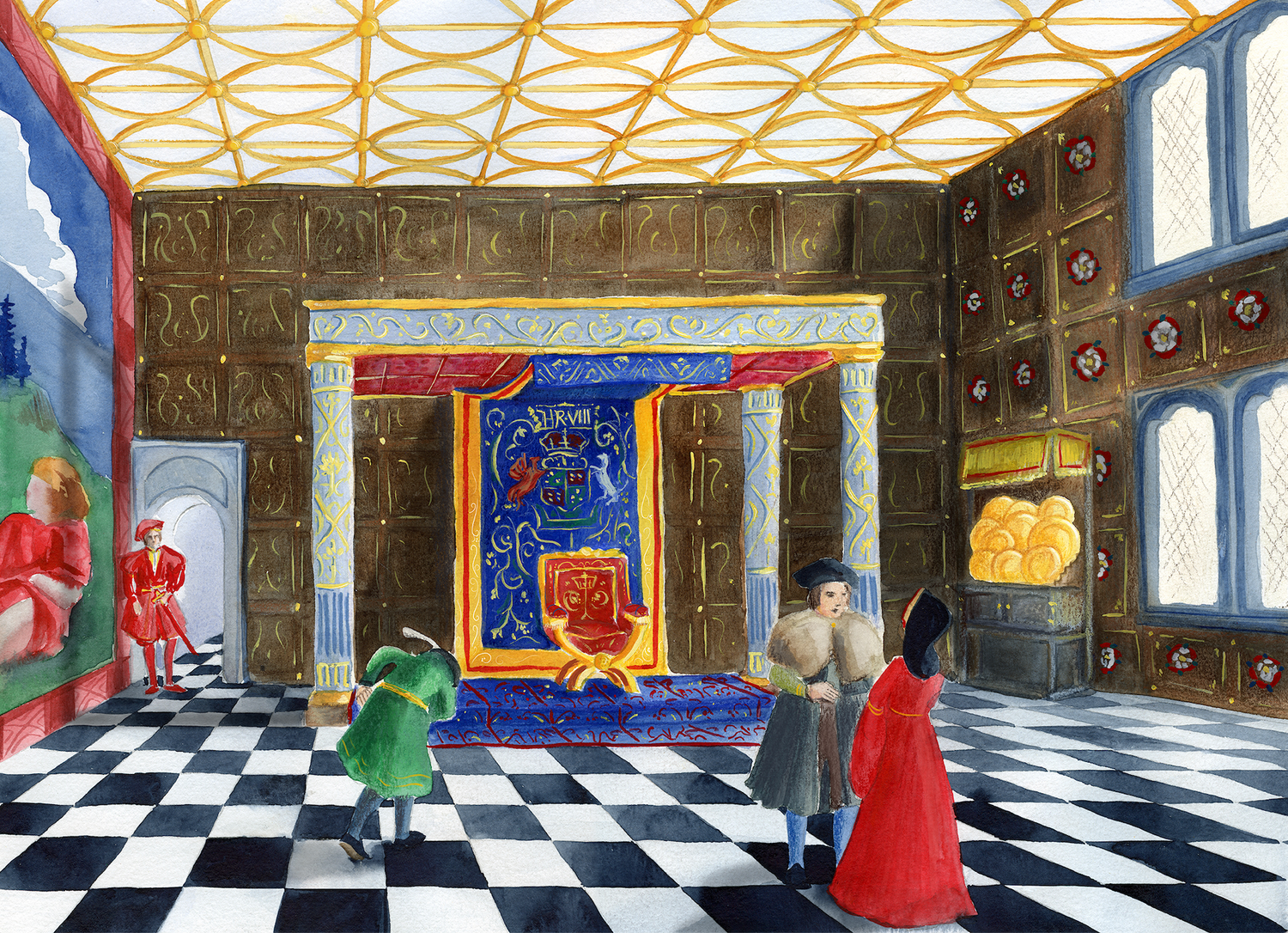 A Recreation of Henry VIII's Presence Chamber at Greenwich Palace
A collaboration between The Tudor Travle Guide and Artist Kathryn Holeman to bring to life one of the key interriors of Henry VIII's reign...the King's Presence Chamber at Greenwich Palace.